Svätý Jur - a romantic wine fairytale
Svätý Jur is a nice little town at the foot of the Little Carpathians that will win you over right away. The vineyards form a beautiful panorama and reveal what is the main theme of this beautifully preserved town. Jura is a short hop from Bratislava - only 15 minutes by train from the Main Station.
Svätý Jur "terroir"
Svätojurský chotár is one of the best-preserved units reflecting the original form of the Slovak landscape. This is thanks to the steep slopes with small terraced vineyards, which could not be combined into large units, such as in Pezinok or Modra.
Vineyards and wine have influenced everyday life in St. Jura for centuries. They became the main motive of everything happening in the city, a source of wealth and self-confidence of the townspeople. When the vineyards were established, it was necessary to clear the forests and dig up the soil before planting the vines. Rock removal was a regular activity carried out by entire generations for centuries.
Geology
It provides ideal conditions for growing vines. In addition to the favorable orientation of the slopes with sufficient sunlight, these are light to medium brown soils, developed on a granite bedrock. Climatic conditions are especially suitable for growing white cider varieties.
Predominant varieties in St. Jura
Today, four white grape varieties dominate the farm: Müller Thurgau, Riesling Vlasský, Riesling Rhys and Grüner Veltliner, planted on roughly 70% of the area. Blue cider varieties, primarily Frankovka blue, Svätovavrinecké and André, occupy only 10% of the area.
Turistic attractions worth seeing and experiencing
Pálffy Manor - returned nobility from the 16th century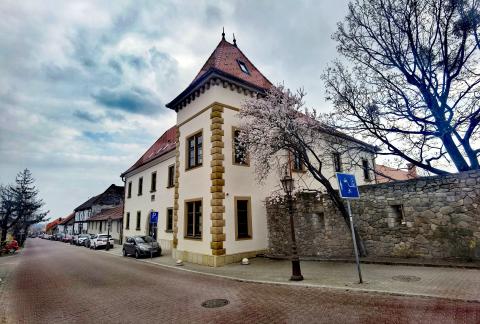 The Pálffy mansion from the 16th century got a new look to preserve its story. The beautiful mansion gained its nobility through reconstruction. The complex includes beautiful halls for rent for special events, a restaurant and your own winery, you can choose according to your tastes. You will find yourself in the atmosphere of the 16th century with a subtle touch of modern times. You can taste wines from VIAJUR's own production at regular daily tastings, walk through the production area, enjoy delicacies at the restaurant Hostinec Palatín, where they are inspired by Austro-Hungarian cuisine. Pálffy Manor regularly organizes cultural events for its visitors.
(Photo: Kaštiel Pálffy)
Biely Kamen Castle - easy active movement
If you need to release energy and are looking for active movement in nature, we recommend Biely Kameň Castle, only 20 minutes from the center of Svätý Jura you will find yourself at the ruins of Biely Kameň Castle, which offers wonderful views of the Lesser Carpathians. The castle dates back to the 13th century, but was attacked and destroyed by the Turks in the 16th century.
(photo: www.sorger.sk)





Gastro and accomadation - where to eat and sleep well?
Krone is a saved Renaissance house that has been turned into a lively space: a cafe, a restaurant and a guest house. It has 43 beds available in a pleasant environment. The restaurant is based on fresh, high-quality ingredients and traditional recipes adapted to the modern customer using modern technologies. It is located right on the square in St. Jury. Address: Prostredná 160.
(Photo: Krone)
Pálffy Castle
Hostinec Palatín - let your taste buds be pampered with seasonal Austro-Hungarian cuisine in the beautifully renovated Pálffy Mansion. (Photo: Kaštiel Pálffy)

Čokokafé - an ice cream, cakes, a coffee and wine
The Čokokafé is located in a beautiful vineyard house with a large terrace, a cellar and a cafe in a Renaissance house from the 17th century.
The winegrower's house gradually fell into disrepair, but luckily they started to reconstruct it in recent years and today it is also the scene of various events related to wine.
Treat yourself to coffee, homemade desserts, delicious ice cream or wines from local winemakers.
(Photo: private archive)
Where to taste the best local wines?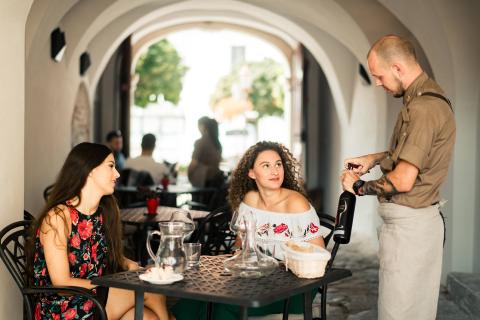 Wine and Svätý Jur are historically linked, that's why when you walk through the historic center and admire the beautiful preserved historical buildings, wine is shouting at you from everywhere.
(Photo: Krone)
The first stop to get acquainted with St. George's wines. It is a unique project that promotes St. George's wines and winemakers. They do daily wine tastings or thematic wine tastings, which are led by the winemakers themselves. Address: Prostredná 48, Svätý Jur.
(Photo: Vinocentrum)
ViaJur vineyard and winery is the continuation of an exceptional historical story, an important part of which is the Pálffy Manor in St. Jura. It is in this noble place that winegrowers and winemakers have been making wine since the 15th century. You can taste the result of the work of VIAJUR winemakers and winegrowers every day from Tuesday to Sunday, watch the cellar where the wines are made or a short film in the winery itself: The Four Seasons. Address: Prostredná 13, VIAJUR. You can book tastings at ViaHJur here.
Taste winery Dubovský & Grančič
The Dubovský & Grančič winery is a family winery that continues the long-standing tradition of its ancestors.
Taste the wines in their beautifully built winery. The traditional tasting room and the warmth and enthusiasm of the winemakers will draw you into their story. You will walk through the production area, the barrel cellar or the "sectarian room". Address: Zuby 293, Svätý Jur. Tastings Book Tastings in Dubovský & Grančič here.