Tekov "terroir" - wine and other interesting things for visitors
Terroir Tekov brings together family wineries from the wine-growing villages of Rybník, Čajkov, Hronské Kosihy, Podlužany, Brhlovce, Levice and Pukanec. A common feature of the wines is their origin in vineyards planted in volcanic bedrock full of tuff and andesite, which owes its origin to the extinct Sitno volcano near Banská Štiavnica.
Traditions
The charming region extends over fertile lowlands in the area of ​​the floodplain of the lower reaches of the Hron River. It is protected from the north by the southern foothills of the Štiavnické hills. The region is considered a fertile region with a lively folklore, surviving with a typical soft dialect. And beautiful vineyards.
It is worth seeing and experiencing the traditional Tekovsko folklore festival, where you have a unique opportunity to see traditional costumes from this area. The Tchaikovsky vintage is also a big event. Harvest celebrations are accompanied by a costumed procession led by an allegorical chariot and performances by regional folklore associations and representatives of the Slovak music scene. The event is also accompanied by presentations and tastings of regional products, wine and "burčiak" and especially local gastronomy.
The wines from this region are beautifully mineral and, thanks to the volcanic bedrock, have their unique and unmistakable taste.
Typical grapes variaties for Tekov
Pesecká leánka (Feteasca Regala) is doing very well in Tekovo, which is once again very popular. Winery Nichta, one of the well-known wineries in Tekov, produces sparkling wine from this traditional variety, beautifully fresh and light. In addition to Leánka, you can also find Rieslings, Frankovka Blue and Nouvelles in the region.
Turistic attractions
Tekov is located near the towns of Levice and Nitra, an hour from the beautiful Banská Štiavnica, half an hour from the Dudince spa. If you are near these locations, be sure to run to Tekovo, where there is a lot to experience.
Only 30 minutes from Čajkov, you will find yourself in a fairytale nature with a meadow, a pond full of fish, a waterfall and animals. Ideal for a family trip with children. From April to June and in September and October open on weekends and holidays. Open daily during holidays.
New cycle routes are constantly being added in the vicinity of Tekovo. If you are going to this area, we recommend the following routes: direction Tlmače, Rybník, Čajkov, Nová dedina. The route is more suitable for mountain bikes and there is also a charger for electric bikes in Tlmačy. The number of people interested in and enthusiasts for cycling grows every year. The Nitra self-governing region decided to support development in this area several years ago.
Foto: Kúpele Dudince
Medicinal Dudin water is among the rarest in the world due to its high mineralization. It treats diseases of the locomotor system, cardiovascular diseases, neurological diseases and diseases of professional overload.
In addition to staying in the spa, you can also enjoy the healing water in the summer at the Dudinka swimming pool. Its cozy area offers a cozy atmosphere and cleanliness.
Gastronomy
Foto: Ranč u Bobiho
The ranch is located in an attractive environment on the banks of the Hron River and offers active use of free time for lovers of horses, sports, relaxation and good food.
It is located in Levice. A wooden log structure, where you can relax and enjoy traditional Pukán paráncs, traditional lumberjack food, which was varied by lumberjacks and charcoal burners.
A stylish cafe with quality specialized coffee, a modern, pleasant space, a children's corner, a terrace, a nice place to meet or relax.
Accomodation
Hotel Lev - a cultural and historical monument that has been providing services to its customers for more than 100 years. If you want to experience the historical atmosphere of Levice, we recommend Hotel Lev. Prices are around 70 euros/night.
Apartmány na Bašte - renovated apartments located in the historic center of Levice, only 6 minutes from Levice Castle. Price per night around 50 euros.
Hotel Dastan - in addition to pleasant accommodation, it also provides wellness, relaxation and great food. Three-star hotel at affordable prices.
Wine tastings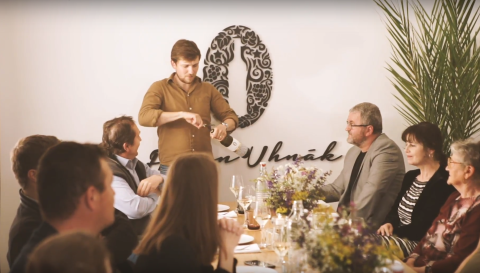 Foto: Anton Uhnák
Anton Uhnák Winery - a young winemaker from Čajkov, who continues the twelve-generation winemaking tradition. The unique character and minerality of the wines from Anton Uhnák is given by tuff and andesite subsoil originating from the volcanic outcrops of Štiavnické vrchy. Taste the wines from Čajkov in the tastings: Anton Uhnák welcome tasting - you will taste 6 samples of wine that are typical for Čajkov, "Terroir Tekov" and two samples directly from the stainless steel barrel. Thanks to this, you will find out what the new year will be like. In addition to quality wines from Anton Uhnák's workshop, you can also enjoy snacks made from local products: cheese, sausage, nuts, pastries. The price of the tasting is 20 euros and is available every Thursday at 18.00. The Anton Uhnák winery also organizes a tasting for the more demanding: Wine tasting with seasonal specialties, where you can taste homemade specialties made from quality ingredients paired with the best from Anton. The price per person is 45 euros and for a minimum of 4 people.
Vino Nichta - moderné rodinné vinárstvo sídliace v srdci vinárskeho regiónu Tekov – v Čajkove. Vína Nichta sú komplexné a plné, s výrazným terroirárnym profilom a odrodovou charketistikou. To, že kvalita je pre vinárst
Vino Nichta - a modern family winery located in the heart of the Tekov wine region - in Čajkov. Nicht's wines are complex and full, with a distinct terroir profile and varietal characteristics. The fact that quality is everything for winemaking is supported by the success of unique wines at competitions at home and abroad. Taste Nichta wines personally in the tastings: Mini tasting of the Nichta family winery - a quick tasting in the premises of a modern wine shop, which will allow you to get to know the basic philosophy of the Nichta family winery. During the working week, you have the opportunity to taste 5 wines selected according to the season, all of which come from our own vineyards planted within 6 kilometers of the winery. Tasting price 9 euros/person. Taste the family winery Nichta - the winemakers of Nicht are based on a personal approach and a homely atmosphere. At this tasting, the winemaker Branislav Nichta or his son Jakub will take care of you in a beautiful, modern tasting room. They will guide you through production, the barrel cellar and familiarize you with the production process. You will enjoy 8 wines from our own vineyards. Pesecká leánka will not be missing, which is extremely successful in Tekovo, and the winery also produces grower sparkling wine from it, made using the traditional method of fermentation in the bottle. The price of the tasting is 30 euros/person, minimum 4 people and every Thursday at 17.00.
Transport - how to get there
How to get to Tekovo? If you are traveling from Bratislava, you can take a bus from the Bratislava Mlynské Nivy bus station to Levice or Nitra and from there transfer to local transport or take a taxi to Čajkovo or the surrounding areas. The train goes from Bratislava main station to Levice and from there a local bus or taxi to the surrounding area.