Limbach - a magical small wine town near Bratislava
Limbach is a magical village near Bratislava, only 30 minutes by car, 3 km from Pezinok.
It enchanted several Slovak personalities, thanks to the nature that surrounds Limbach and the beautiful vineyards. They are the legacy of the German settlers who lived here from the 14th century until 1945.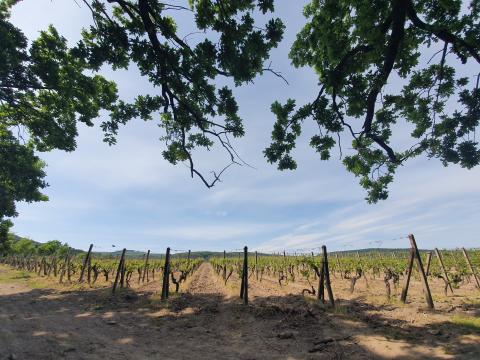 Traditional grape varieties
Silvan green is a typical variety of Limbach. It has been successful for many years thanks to the sandy-clay soil, which gives it a unique character. In Limbach, there are also excellent conditions for Veltlinské zelené or the German variety Kerner, which is not widespread in Slovakia.
Tourist attractions
The surroundings of Limbach is a beautiful area, suitable for easy as well as more demanding hiking.
Mountain bike trails are connected from Bratislava through Biely kríz, Svätý Jur, Limbach to Pezínská baba.
Limbach with Pezinok has a brand new approx. 3 km cycle path with a beautiful view. The route leads from Limbach to the area with a view of Rozálka.
Donkey climb - a 2-hour hike, on the way you will pass "Vyvieračka" - natural drinking water with a high-quality mineral composition springs here, where you can refresh yourself. During the ascent in season (February, March) you can collect wild garlic, which is blessed up there. At the end of the ascent, you will experience wonderful views of the Small Carpathians. The way down is already comfortable and pleasant.
Sunny Valley - is a recreation area of ​​Limbach, a cottage area. There is a nice lake in the middle, where you can skate in the winter and refresh yourself in the summer. When you go on a trip there, you can refresh yourself in a local pub.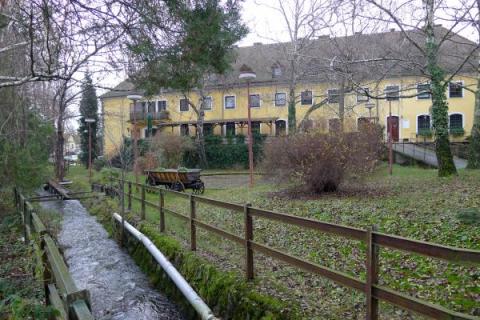 Hotel Limbach - is a beautiful town house from the 14th century, a wonderful Renaissance monument with a hotel, restaurant and its own historic cellar, one of the most beautiful in Slovakia. Today it is no longer open to the public, but is waiting for a new owner who will breathe new life into it. It's worth going there to see it from the outside - a nice area full of greenery and a part of it is Koliba, where the killing sprees took place.
Evangelic church - together with the Catholic church are other well-preserved monuments of Limbach. Both churches are renovated and open to the public.
German houses - Limbach still has well-preserved German houses, small houses full of character, which were built wide and were inhabited by several generations at once.
Coffee, Cakes, Wines
CoffeShopa - Limbach has a new beautiful designer cafe, where lovers of quality coffee, cakes and wine can enjoy themselves. Each month they present the wines of a different local winemaker. You can also buy Slovak products and sit in the beautiful surroundings of the design cafe or on the outdoor terrace.
Grilled fish, fries. In the summer, it is worth sitting on the terrace of a local pub in Limbach, not far from the Evangelical church. You will enjoy grilled fish, beer, kofola (slovakian popular soft drink).
Wine tasting
Limbach is a typical vineyard and wine region. Every year, the popular "Open Wine Cellars" event take place in Limbach, when you visit the wine cellars of local winemakers and taste the best of the year.
If you want to experience a wine tasting directly at winemakers, recommending:
Limbavin winery, Lac Puček's family winery. A modern winery with quality wine, refreshments and accommodation in stylish rooms and apartments with a view of the terraces of the Limbas vineyards offer an unforgettable atmosphere. In Limbavin you can make a weekend in a winery.
The Czechoslovak winemaking couple of the Loczi family is another attraction of the Limbas wine scene. Get to know the unconventional Kerner variety, their cuvée Záhrada or light rosé at the Genius Loczi tasting. Martina, a native of Prague, will guide you through the tasting. In a beautiful tasting room with a homely atmosphere, where you really feel at home, you can also taste homemade bread, cakes, pâtés. You can also stay with the Loczi family. You can book a tasting of 6 wines for €15/person in advance online.
Transport
By train - trains run every 30 minutes from Bratislava Main Station. Get off in Pezinek and there are local buses to Limbach (10 minutes journey). Locally, we recommend a VIP taxi (5 euros each way).
By bus - buses run from the following stations: from Bratislava Nivy, Bratislava Bajkalská, Bratislava-vinohrady and directly to Limbach or with a transfer in Pezinok.
Wine taxi - you can also travel to Limbach with our Wine Taxi for a fixed price from Bratislava (return Wine Taxi €56 passenger car/€70 minibus) and other cities!
Accomodation
You can stay in Pezinok, only 3 km from Limbach. See where here.