Bovinel
Zápotok 1026/26, 900 81 Šenkvice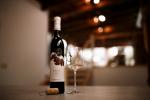 Bovinel
Zápotok 1026/26, 900 81 Šenkvice
---
About the winery
We are a small winery at the foot of the Small Carpathians, where we produce wines that are unique and harmonious. BOVINEL's vision is to preserve the traditional wine recipe of our region and connect it with modern technologies and oenological procedures. In our wines We focus on the production of rare drinks, such as liqueur or dessert wines, wines with residual sugar and amphora wines (fermented on sulfur-free skins). In our wine tasting room you have the opportunity to taste typical Slovak varieties. Fresh Veltlin green, sharp Riesling vlašský, or spicy Frankovka blue.
Winemaker Viktor Bobek is not only a winemaker, but also a sommelier, he is dedicated to sabras and his tastings are a great experience thanks to his funny and distinctive personality. T
Tastings are carried out in accordance with current COVID-19 measures.
Profile varieties
Rizling vlašský
Grüner Veltliner
---
Profile varieties
Rizling vlašský
Grüner Veltliner
---
Useful information
Corporate event compatible
Zápotok 1026/26, 900 81 Šenkvice