To Pezinok not only for wine - wine tourism
It is worthwhile to go to Pezinok not only for the wine tasting - this historic wine town not far from Bratislava offers many attractions, but also accommodation options and a rich gastronomic scene!
A short history
Pezinok is a royal town, which in the 17th and 18th centuries was among the richest in Hungary thanks to the production of quality wines. In the 19th century, the industry flourished, the first factory for the production of sulfuric acid in Hungary was established in Pezinok.
Today, Pezinok is a modern city with built-up industry (brick-making, engineering and construction production), developed trade and high-quality wine and vineyard production.
Viticulture and winemaking in Pezinok
Pezinok is part of the Little Carpathian wine region named after the Little Carpathian Mountains. It is located on its southern slopes at heights from 138 to 752 meters above sea level. The total area of ​​Pezinok vineyards is approximately 860 ha.
Traditionally, mainly white wines were produced in the Pezinok estate. The most cultivated current variety is Riesling Vlasský, and from the varieties grown in the past, in addition to Riesling, veltlins, silvans, sauvignons, tramines, muscats and burgundy have been preserved.
Tourist attractions in Pezinok
Today, Pezinok is a modern city with beautiful historical cultural monuments, museums and a wide range of restaurants and quality coffee. An integral part of Pezinok as a wine center of events are wine shops and wine bars, where local Malocarpathian wines are served.
Zámok Šimák – reconstructed castle from the 13th century. A wonderful project where you will find yourself in another time without even realizing it and spend half a day here. You can see the beautiful renovated halls of the castle, eat in the castle restaurants, taste the wine from their own production or even stay the night in a boutique hotel or treat yourself to modern wellness or just wander around the castle park with a pond, where you will definitely meet peacocks. The castle is also a regular venue for concerts by local and foreign stars. You can book a wine tasting in advance via ZaVínom.sk.
Small Carpathian Museum Pezinok - a beautiful museum located in a historic wine house. There you will find two permanent exhibitions - The Story of Wine and the History of Viticulture and Winemaking under the Small Carpathians. In the expositions you will discover the largest collection of wine presses and learn interesting information about viticulture and winemaking in the Little Carpathians.
Health center Rozálka - is located in the embrace of the green hills of the Small Carpathians. It offers active enjoyment for the whole family: walks, horse riding, tennis courts, children's playground and restaurant or accommodation. You can spend the whole day actively or just stroll around Rozálka or the surrounding vineyards, which complete the beauty of this complex. A longer walk is offered by the 7 km Vinohradnícky nature trail, which follows the green sign and you can join it either at Malacká cesta or in the Areál zdravia Rozálka. The Rozálka complex is located a 10-minute walk from the main square of Pezinok or a 13-minute walk from the train station.
Art
Schaubman's mill - At first glance, the interesting Schaubmar's mill dates from the 18th century, and today its premises serve the needs of the Slovak National Gallery. It runs a permanent Miller exhibition and various temporary exhibitions focused mainly on instinctive art. Recently, the mill has been expanding its services, adding new events and becoming an attractive place not only for trips by families with children and art lovers.
Cycling in Pezinok
The surroundings of Pezinka are suitable for cycling along routes of varying length and difficulty. For example, the 16 km long recreational cycle path leading to the city of Senec is popular. From the Town Hall Square, the yellow sign will lead you to Vinicné and continue through Šenkvický háj and Svätý Martin to Senec. If you are interested, you can also head to Slovenské Grob or Šenkvíce. Read more about cycling in this region in our cycling article.
Gastro
In recent years, Pezinok has also become a gastronomic experience. The city center is alive with local restaurants and cafes.
Restaurant Korzo - a restaurant with a tradition since 1992 has a kitchen inspired by the Italian approach to cooking. He prepares dishes exclusively from fresh and healthy seasonal ingredients, which he mostly buys from local suppliers. Good wine also inevitably belongs to intense taste experiences. Address: M.R. Štefánika 10, Pezinok.
Restaurant U Magistra offers many years of experience in the field of gastronomy and a quality approach to every customer, presents quality gastronomy at prices that everyone can afford. Address: M.R. Štefánika 17.
City Hall – café & wine bar. A seasonal selection of great wines from local winemakers, not only from the Malokarpatska wine-growing region. Since 2008, the City Hall Café & Wine Bar has been regularly organizing Evenings with Wine every Wednesday - wine tastings from all over Slovakia, presented by the winemakers themselves.
Lalia Pizzeria ristorante. A family non-smoking restaurant in a cozy antique style, with a wide range of dishes, from high-quality Italian pizza and pasta to world specialties, vegetarian dishes and specialties of Chinese cuisine, grandmother's dishes, self-made desserts. Children's corner, during the summer season a terrace with a magical castle for children. Address: Holobyho 42, Pezinok.
Mlsná Ema cafe - Chocolate shop and art shop full of experiences. Address: M.R. Štefánika 2, Pezinok.
Pezinok harvest - traditional grape-picking festivities that must not be missed in this region. Gastro stands with delicious food and burčiak, which is typical for this period, and a rich cultural program.
Accomodation
Hotel Vinársky dom is located within walking distance from the center of Pezinok and its tourist attractions. It offers you a wine shop with a wide selection of local wines.
Palace Art Hotel Pezinok is located in Pezinok and offers a bar, a lounge, a spa and wellness center and a terrace. Boutique hotel for the more demanding.
Penzión Rozálka is located in the Rozálka Health Center in Pezinok. You can go horse riding, visit the petting zoo or play tennis right on the spot.
Taste wines directly from the winers from Pezinok
Wine tastes best directly at the winemaker, especially a small winemaker is difficult to get to. It is not always open, there may not always be someone there. There is also the ZaVínom.sk portal for that, where you choose a date, time, number of people, or location and look for winemakers. In Pezinok, you can taste wines from the following winemakers:
Adam Sykora -young energetic winemaker. It is located in the part of Grinava - a short distance from Pezinok. Adam wins prestigious domestic and international competitions. We recommend trying Prvý bozk, Nová stora or traditional Silvanské zelené, for the more demanding limited editions: Sauvignon blanc - generation, Pinot noir or Rebel - cuvée, flagship. You will enjoy quality wines and you will not be bored. You can get here by train from Bratislava, Trnava, stop: Pezinok-zastávka. Or the bus stop is right next to the winery. Tasting: "Taste the legends of the Small Carpathians", where you will taste 7 samples of wine, served with a cheese bite. The price is €15/person. You can choose the dates and times that suit you. Order a tasting with gogo.wine
Historic wine house in Pezinok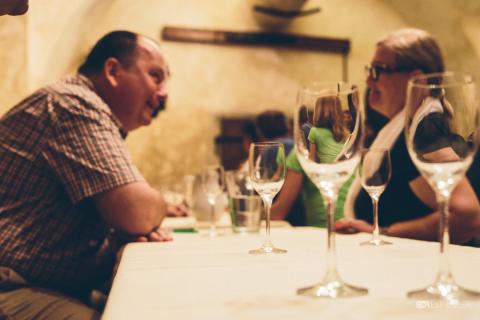 If you want to experience something extraordinary, try the wines at a unique wine tasting organized regularly by the Small Carpathian Museum Pezinok and experience the wines differently, through your senses, in the dark, in silence or with light effects under the name: "Enjoy your senses". Get to know how your taste buds react to darkness, changing colors or music. For a moment, you will become a sommelier and determine the intensity of aromas and flavors under the influence of darkness, colors and music in a historic cellar from the 17th century. You will taste 5 samples, which are served with a simple cheese bite. The price is €15/person. The minimum number of people is 4. Book a tasting with gogo.wine.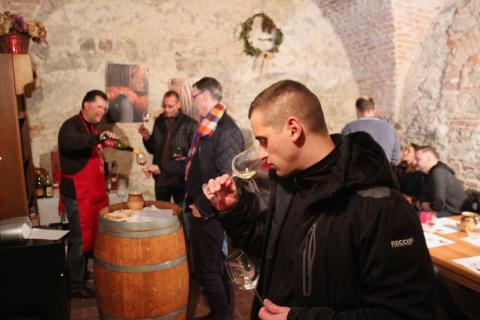 Vinárstvo Ratuzky,the family winery, which continues the tradition of its ancestors, is located in Vinosady, but in the building of the Old Town Hall in Pezinok it operates a wine shop with a wonderful Renaissance cellar from the 17th century, where they organize their famous tastings. You can taste their wines, they focus on the varieties of the Smallcarphatian viticultural region, such as Rhenish Riesling, Veltinské Grüner, Muller Thurgau or Frankovka Blue. You will enjoy 6 samples and a cheese plate with pastries is served with the wine. The price per person is €15. You can book tastings through gogo.wine, you choose the date and time that suits you from the listed ones.
Zámocké vinárstvo - it is part of the Šimák Castle complex, which we mentioned at the top of the article. They produce their own wines from their own vineyards and regularly star at domestic and international wine competitions. "All our wines, ŠIMÁK ZÁMOK PEZINOK - Roman Janoušek edition, are born in the almost mysterious cellars of Pezinsky Castle. White, pink and red. With an elegant color and captivating aroma. With a taste dominated by character." (Roman Janoušek).
You can taste the wines of Zámocký vínárstva in the tasting: Enomatik entrance tasting, where 6 samples await you, a simple bite, price: €16/person. Tasting takes place throughout the week at different times. For the more demanding, there is also a tasting: Club 1271. This is a tasting of premium wines, plates with home-made specialties and at the same time a credit of €14 for the purchase of wine, you will not leave empty-handed. Price €39/person.
Transport - how to get to Pezinok
Trains
Trains runs directly to Pezinok from the city: Žilina, Trnava, Bratislava.
Buses
Buses run from Trnava, Senec, Bratislava directly to Pezinok. It takes 30 up to 40 mins.