Historic wine house in Pezinok
M. R. Štefánika 4, Pezinok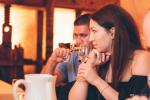 Historic wine house in Pezinok
Historic wine house in Pezinok
M. R. Štefánika 4, Pezinok
---
About the winery
The historic wine house in Pezinok is an exceptional place of experience. Not only will you find there two permanent exhibitions - The Story of Wine and the History of Viticulture and Enology under the Little Carpathians. In the exhibitions you will discover the largest collection of viticultural presses and learn interesting information about viticulture and winemaking in the Little Carpathians.
At the same time you will experience Littlecarpathian wines from local winemakers completely differently. Tastings that test your senses. Martin Hrubala is a sommelier who elegantly and playfully combined elements of darkness, colors, light, darkness and music, and the result is an exceptional experience that you will not forget. Ideal for smaller groups or even great as teambuilding for larger groups.
Profile varieties
---
Video gallery
---
Useful information
Corporate event compatible
Languages spoken
SK/EN/DE
---
Transportation
Slovak lines buses run from Bratislava stations (Nivy, Bajkalská, Predmestie, RAča) every half an hour, hour directly to Pezionok main square.
Trains run from Bratislava main station directly to Pezinok train station every hour. (Stops: Main Station, Predmestie, Rača, Svätý Jur, Pezinok-zastávka, Pezinok)
M. R. Štefánika 4, Pezinok